Expanders for Sugar Mills used in Juice Evaporators.
Expanders for sugar mills are used primarily for rolling thin-walled tubes used in sugar mill juice heaters and evaporator pans. As with three roll systems and thin-walled tubes, expanders for sugar mills give a more concentric, uniform expansion and eliminate triangulation. Juice pans can be one of the most awkward tubular vessels to retube. The SB Series Sugar Mill tube Expanders make the job much easier when used with the CSB expander. Covering tube OD from 1.1/2″ to 4.1/2″ and rolling with a 5-roll system, these expanders give smooth, consistent rolls in the sugar mill apparatus.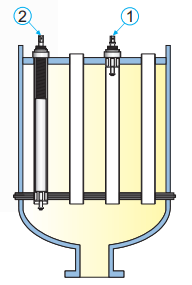 In the diagram above the picture represents a juice pan with the SB Series (1) and CSB Series (2) tube expanders and how they would be operated from above as rolling these tubes from the bottom is very restricted. Tube sheet thickness is covered in sizes 1.1/4″, 1.1/2″ and 2.0″. 

The CSB Series for the bottom joint is made on-demand because we need to know the distance between tube sheets. Once again this is a 5 roll system giving consistent, concentric and uniformed expansion.
Information Needed
1. Tube OD
2. Tube Wall Thickness
3. Tube Sheet Thickness
4. Distance between the tube sheets.
Removing the old tubes can be a slow and laborious job. Most tubes being removed are copper and being replaced by stainless steel. As it is not feasible to mechanically or hydraulically pull these tubes we at Powermaster Industrial have been making a tool which cuts the tube and collapses it into itself.