Selection of Boiler Tube Cleaning Machines
Powermaster Industrial is a company which is here to help you select the correct cleaning equipment for the task at hand. As you go through these pages referring to the different types of boiler tube cleaning, helpful information guides you and we are only a phone call away Tel: (613) 764-0572. Without reservation, we are always here to help you make the correct decision. Besides cleaning Machines, links to Flex Shafts, brushes and cleaning systems can be found on this page. 
Size (OD and ID of the tube.
Material of the tube.
Type of deposit.
Length of the tube.
Number of tubes to be cleaned.
Type of Boiler (Water tube or Fire tube).
Basically, we suggest selecting the most powerful boiler tube cleaning machines for the task in hand. But then, if you are only cleaning light soot from tubes no bigger than 2.1/2″OD the PTC-75 unquestionably would be more than adequate. The type of scale encountered and the size of the tubes must be considered. Also, areas where a high mineral content in the feed water will always produce more scale like calcium etc. Additionally in this situation, a water treatment system should be installed.
Powermaster tube cleaners are environmentally friendly, compact and easily maneuverable. Used to clean straight and curved tubes in heat exchangers, boilers, condensers and other tubular apparatus. Therefore they are manufactured with the maintenance engineer in mind to make them effective and simple to operate. They work by attaching a cleaning tool (to be determined by the type of scale/deposit to be cleaned) to a flexible shaft. The drive unit provides a rotary force to the inner core of the flexible shaft and at the same time water passes through the shaft to flush out deposits. Brush size selection is determined by the ID of the tube. The brush needs to be slightly smaller than the ID so it vibrates within the tube while cleaning.
Factors to consider when Boiler Tube Cleaning
Besides the size of the machine, particular factors need to be considered when choosing a boiler tube cleaning machine, especially when working in many different environments. Secondly, you must also consider jobs that may arise in the future for choosing accessories, especially brushes and brush material. Therefore, it is always better to have more than enough power than not enough. By and large, most companies can get away with using electric tube cleaners. However, safety must be considered when working in dust environments where pneumatic machines would be more fitting. Despite all the information on this website, if in this case you find you need help please feel free to call us where all things considered will be taken into account in choosing the right equipment.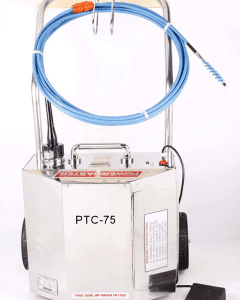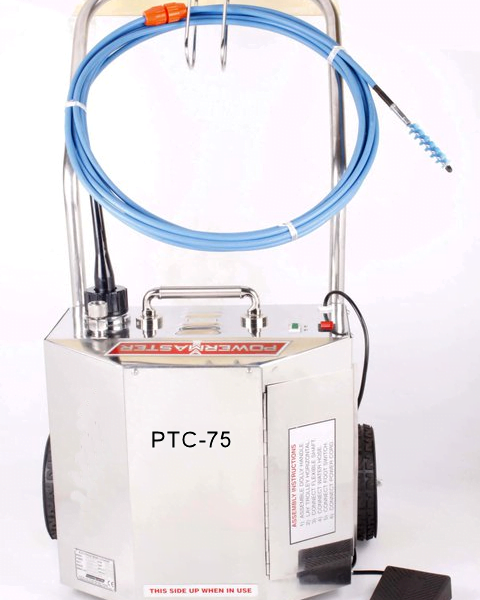 PTC-75 Boiler Tube Cleaning Machine
Specifications:
Tube ID up to 2.1/2″OD
1 Hp. 0.75 kW.
Motor Speed 1780 rpm.
220 volt or 110 volts 50/60 Hz.
Weight 70lb 32 kg.
Dimensions 38x21x18 inches.
The PTC-75 is a powerful tube cleaner for boilers and heat exchangers. The powerful 1Hp motor provides unquestionable amounts of power for cleaning tubes. This driving unit can be used with a wide selection of tools available in the Powermaster Industrial Arsenal.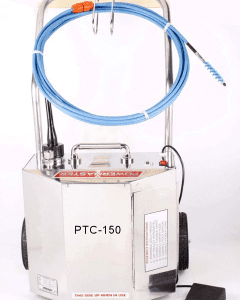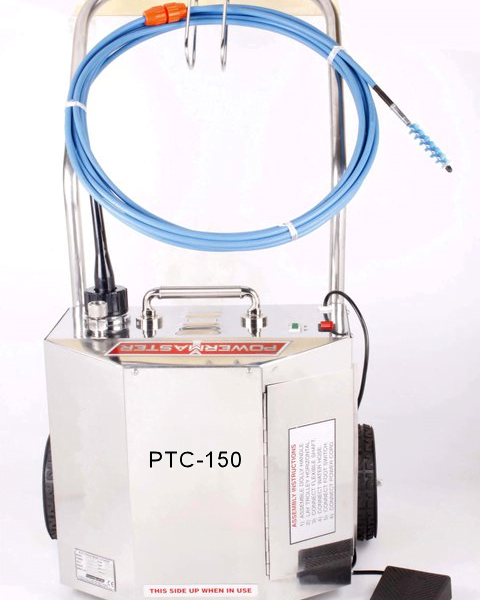 PTC-150 Boiler Tube Cleaning Machine
Specifications:
Tube ID up to 4.0″OD
2 Hp. 1.50 kW.
Motor Speed 1780 rpm.
220 volt or 110 volts 50/60 Hz.
 
Weight 84lb 38 kg.
Dimensions 40x22x19 inches.
With the PTC-150 you get one of the most powerful electric tube cleaner for boilers available. The 2Hp motor provides unlimited power for tube cleaning. This driving unit is used with a wide selection of tools provided by Powermaster Industrial.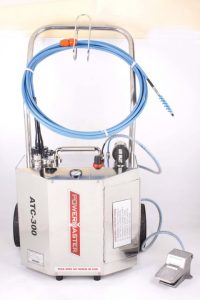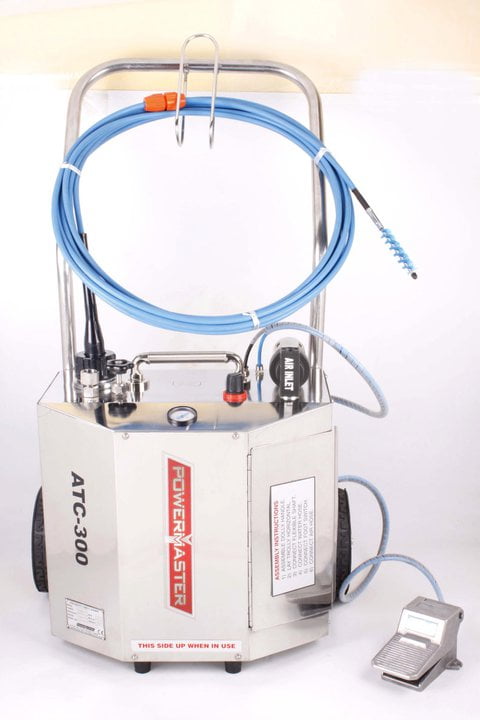 ATC-300 Pneumatic Boiler Tube Cleaning Machine
Specifications:
Tube ID up to 4.0″OD
4 Hp. 3.00 kW. Pneumatic Power.
Motor Speed 300-3000 rpm.
Weight 64lb 29 kg.
Dimensions 36x22x16 inches.
The ATC-300 is our most powerful pneumatic tube cleaner above all for boilers. The 4Hp motor provides unmatched power for cleaning tubes heavily scaled in areas where using electric cleaners could be hazardous. As a result workers remain safe. This driving unit requires 90 psi continuous and can be used with a wide selection of tools available in the Powermaster Industrial Arsenal.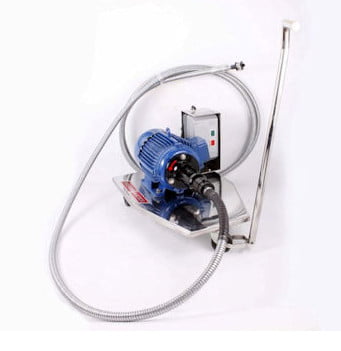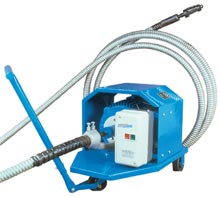 Model TC - Sugar Mill Tube Cleaner
Flexible Shaft Machine are a self-contained portable unit, mounted on a 3-wheel trolley and fitted with a carrying handle. It incorporates a directly coupled, totally enclosed squirrel cage, 2800 rpm. continuously rated electric motor. Selecting the H.P. of the motor depends upon length and size of Flexible Shaft and nature of the deposits. It is controlled by a push button starter which is provided with three thermal adjustable overload relays. Each machine is fully wired, carefully tested and is fitted with a 15-feet length of PVC Cable to main supply. Longer cable can be supplied upon request. Please consult us if your electric supply is different from listed below. Motors for alternate supplies are also available.
| Model No | Motor Hp | Speed (rpm) | Electric Supply |
| --- | --- | --- | --- |
| TC-30 | 3.0 | 2800 | 440V 3 Phase |
| TC-50 | 5.0 | 2800 | 440V 3 Phase |
| TC-75 | 7.5 | 2800 | 440V 3 Phase |
For Flexible Shafts for Models TC and VFD follow link below:
The Flexible Shaft transmits constant torque/power from the motor unit to the tool head and brushes within the tube. These shafts run dry at all times.
The Inner Core is double wound in opposing layers, made out of high tensile-spring steel wires and passed through a stress relieving process. Made for absolute vibration-free performance and continuous duty.
Whereas the Outer Casing is flexible, made out of galvanized steel strip and provided with a special steel anti-friction lining for the entire length.
Connections – Suitable motor connection at one end and detachable ball bearing hand piece (tool holder) with threaded spindle for tool head or brush at the other end.
The size of the flexible shaft is based on the internal diameter (I.D.) of the tube. The length of the flexible shaft required is the addition of the length of the longest tube plus the distance between the mouth of the tube and the position of the power unit. The power unit should be located so that the flexible shaft be kept as straight as possible.
| Inner Core mm (inch) | | 12 -13 (1/2″) | 15 – 16 (5/8″) | 19 – 20 (3/4″) |
| --- | --- | --- | --- | --- |
| Outer Casing mm (inch) | | 25 -26 (1″) | 31 – 32 (1.1/4″) | 34 – 35 (1.3/8″) |
| Length mtr. | Length feet | Model | Model | Model |
| 7.5 | 25 | IFS-105-25 | IFS-106-25 | IFS-107-25 |
| 9 | 30 | IFS-105-30 | IFS-106-30 | IFS-107-30 |
| 10 | 33 | IFS-105-33 | IFS-106-33 | IFS-107-33 |
| 12 | 40 | IFS-105-40 | IFS-106-40 | IFS-107-40 |
| 15 | 50 | IFS-105-50 | IFS-106-50 | IFS-107-50 |
| 18 | 60 | IFS-105-60 | IFS-106-60 | IFS-107-60 |
| 20 | 65 | IFS-105-65 | IFS-106-65 | IFS-107-65 |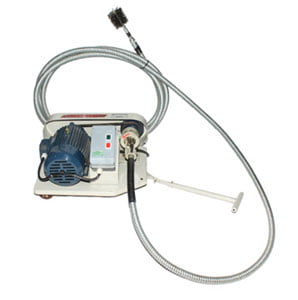 Model VFD - Variable Belt Driven Machine
Electric Tube Cleaners with Variable Frequency Drive (VFD), allow control over speed of the motor by adjusting the frequency as required. Basically, the adjustable speed drive in the electro-mechanical drive system controls the motor speed and torque by varying the motor input frequency. Variable frequency drives used in a drive system have three main sub-systems – AC motor, main drive controller assembly and drive operator interface.
| Tube ID | | Model No | Motor Power | | RPM | Torque | | Weight | | Electric Supply |
| --- | --- | --- | --- | --- | --- | --- | --- | --- | --- | --- |
| MM | INCH | | HP | KW | | Nm | Lb-Ft | LBS | KG | |
| 35-45 | 1.3-1.8 | VFD-30 | 3 | 2.26 | 300-5600 | 5.5 | 4 | 100 | 45 | 440V 3 PHASE 50HZ |
| 35-45 | 1.3-1.8 | VFD-50 | 5 | 3.73 | 300-5600 | 9 | 7 | 110 | 50 | |
| 35 & UP | 1.3 & UP | VFD-75 | 7.5 | 5.59 | 300-5600 | 14 | 10 | 132 | 60 | |