Continuous Hydraulic Tube Puller
Features of the Continuous Hydraulic Tube Puller
 The continuous hydraulic tube puller can remove tubes from boilers and air heaters. Available in either 3-phase, single phase or pneumatic. The pumps can deliver all the power needed to remove 3.0″ OD tubes and pull 4.0″ OD Stubs.
The Pulling gun communicates with the powerpack via a 9v DC remote control. This ensures the safety of personnel. So eliminating the need for an electrical cord between the pump and gun.

Available in a choice of Electric-TPP System or Pneumatic. The Pneumatic system is

specifically

designed for hazardous and explosive working environments.

Microprocessor controls on powerpack and hydraulic tube pulling gun ensures trouble-free life.

An auto switchover from low-pressure to high-pressure on load. Returning to low pressure on completion of the cycle. The slow start feature will cut the risk of breaking the system. Thus, conserving consumables.

Interchangeable tube-pulling guns with the same power pack. For example, a 15-ton gun for light-duty high-speed work. 30-ton gun for heavy-duty tube pulling and 45-ton gun for tubes up to 3" O.D. Stainless steel construction body of powerpack for longer corrosion-free life. Hydraulic Tube Pulling up to 3" OD tubes and up to 4.0″OD stubs.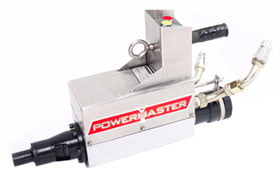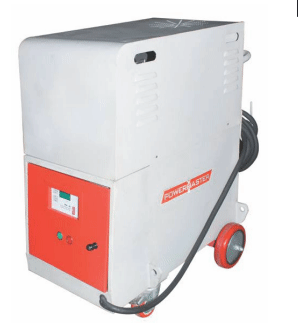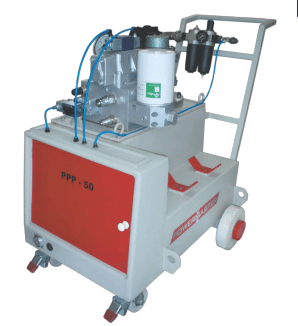 When pulling tubes, remove all beads and flares from tube ends. This allows pulling the tube through the gun.
Tube-pulling guns are available in three sizes. The HPG-45 and the AHPG-45 cover tubes from 1.0″ to 3.0″OD for boiler tubes. Accessories which match the tube size ensure the correct performance of the system.
The sequence of Operations for Tube Removal.
Once inserted, the mandrel bites into the inside of the tube. The mandrel, driven by an impact wrench, connects to the gun.
The Spring Tool Balancer supports the weight of the gun. Mount the gun by sliding it onto the mandrel. Automatic slow start to first break the seal of the expanded joint.
Switching to Auto Cycle by pressing the AUTO button till the tube is completely removed.
Unscrew the mandrel from the pulled tube and proceed to the next tube.